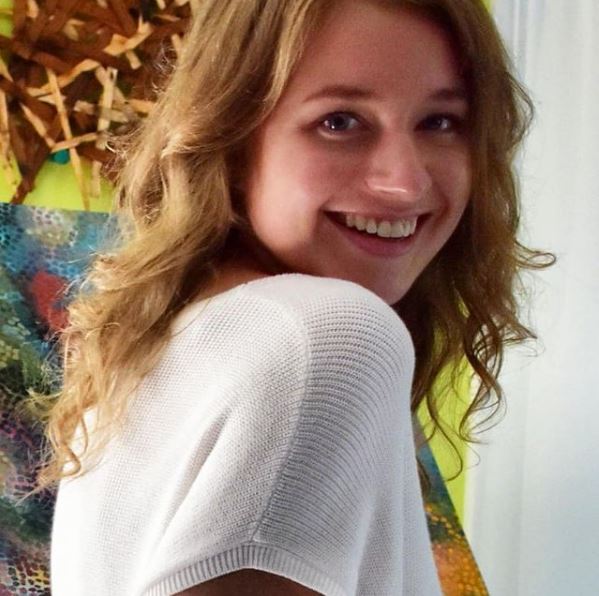 Emily D. Conklin is a visual artist who recently moved from Pittsburgh to eastern Pennsylvania. She primarily creates wood sculptures, mixed media paintings, and oil paintings.
Emily recently exhibited her work in the summer of 2021 in Sacred Spaces, a dual exhibition at Union Hall in the Strip District of Pittsburgh. She has taken part in Red Fishbowl art festivals throughout the Pittsburgh area and has had work in group exhibitions at Percolate Gallery, University Art Gallery at the University of Pittsburgh, Glitterbox Theatre, Seton Hill University Gallery, and the Frank L. Melega Art Museum. Her work has been exhibited individually at the Children's Museum of Pittsburgh, the Carnegie Library Of Pittsburgh Downtown, and various locally owned establishments.
Since graduating in 2016 with her BA in Studio Arts from the University of Pittsburgh, Emily has designed and facilitated art programming at the Children's Museum of Pittsburgh and the Jewish Community of Pittsburgh South Hills. She has created and facilitated art therapy programming for adolescents at Melting Pot Ministries and utilized her artistic knowledge as a volunteer for the Highmark Caring Place of Pittsburgh.
Tuscarora Christmas Marketplace (Winter 2021) Tuscarora Inn, Mount Bethel PA
But Once a Year (Fall 2021) Vestige Concept Gallery, Pittsburgh PA
Sacred Spaces Dual Exhibition (Summer 2021) Union Hall at Bar Marco, Pittsburgh PA
Vine Rewind (Summer 2019) Strip District, Pittsburgh PA
Deutschtown Music Festival (Summer 2019) Allegheny Commons Park, Pittsburgh PA
Solo Exhibition (Summer 2019) Common Place Coffee, Pittsburgh PA
Lawrenceville Art Crawl (Summer 2019) Lawrenceville, Pittsburgh PA
Wilkins Block Party (Spring 2019) Schenley Park, Pittsburgh PA
Solo Exhibition (Fall 2018) Los Sabrosos, Pittsburgh PA
Solo Exhibition (Fall 2018) Untitled Pittsburgh, Pittsburgh PA
Metamorphosis (Fall 2018) Percolate Gallery, Pittsburgh PA
Alumni Show (Fall 2018) University Art Gallery, Pittsburgh PA
Deutschtown Music Festival (Summer 2018) Allegheny Commons Park, Pittsburgh PA
Yinzfest (Summer 2018) Mr. Small's Theatre, Pittsburgh PA
Solo Exhibition (Spring 2018) La Prima, Pittsburgh PA
No Class Gala (Spring 2018) Glitterbox Theatre, Pittsburgh PA
Women in Art Exhibition (Fall 2017) Seton Hill University, Greensburg PA
Frank L. Melega Art Museum (Fall 2017), Brownsville PA
Fifteen Minutes Art (Fall 2017) Storefront Projection at 5900 Penn Avenue, Pittsburgh PA
Carnegie Library Installation (Spring 2017) Carnegie Library of Pittsburgh, Pittsburgh PA
Studio Arts Student Exhibition (Spring 2017) University Arts Gallery, Pittsburgh PA
Solo Exhibition (Fall 2016) Children's Museum of Pittsburgh Art Studio, Pittsburgh PA
Stories Untold Art Exhibition (Fall 2016) University Arts Gallery, Pittsburgh PA
Stories Untold Art Exhibition (Spring 2016) University Arts Gallery, Pittsburgh PA
Studio Arts Student Exhibition (Spring 2015) University Arts Gallery, Pittsburgh PA
A.J. Schneider Reading Room (Spring 2015-Spring 2016) Hillman Library, Pittsburgh PA